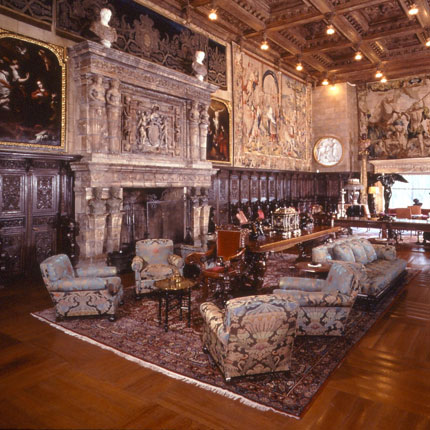 Best for first-time visitors, this overview of Hearst Castle offers an itinerary through the main building called Casa Grande: the Assembly Room, Refectory, Morning Room, Billiard Room and Theater. Tours begin outdoors with several stairs to negotiate on the terraces.
TOUR RESERVATION, CHANGE AND CANCELLATION POLICY
Reservations can be made, changed, or cancelled at ReserveCalifornia.com or by calling 1-800-444-4445. Changes to tour
date or time: no additional charge if made in advance. A non-refundable registration fee per ticket and a $7.00 per cart fee will be charged for cancellations.
Physical Requirements
The Grand Rooms Tour is 70 minutes long and includes approximately 140 steps, both up and down, and 2/3-mile walk. An Accessibly Designed Grand Rooms Tour is also available for those who may have difficulty standing and walking for extended periods of time. It is wheelchair accessible.