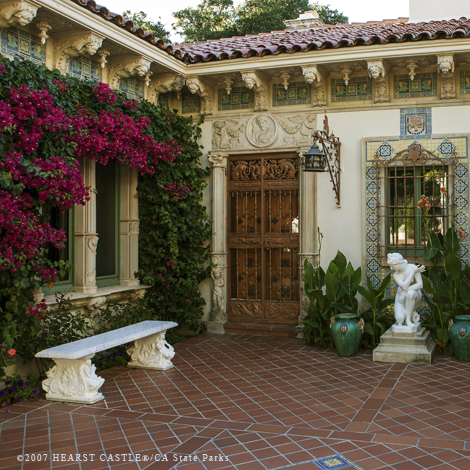 This tour features two of the luxurious mansions that housed the Hearst family and their guests before Casa Grande was ready. Offering magnificent Pacific coast and mountain views, these ornately gilded "cottages" are thousands of square feet in size. The famous wine cellar and gigantic kitchen in Casa Grande are included in this tour.
TOUR RESERVATION CHANGE AND CANCELLATION POLICY
Reservations can be made, changed, or cancelled at ReserveCalifornia.com or by calling 1-800-444-4445. Changes to tour
date or time: no additional charge if made in advance. A non-refundable registration fee per ticket and a $7.00 per cart fee will be charged for cancellations.
Physical Requirements
The Cottages & Kitchen Tour is 70 minutes long and consists of approximately 193 stairs, both up and down, and a 3/4-mile route to walk. For those who have difficulty walking or standing for lengths of time, we recommend Accessibly Designed Tours.