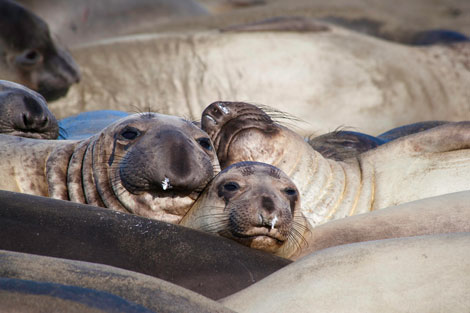 In 1990, just under two dozen elephant seals were seen on the beach just south of the Piedras Blancas lighthouse. Then their migration pattern began to extend decisively. The next spring, more than 400 seals were counted. After that, the population continued to grow every year. Now about 17,000 elephant seals call this beach their home.
While seals can usually be seen at the beach all year long, the best times to visit are during late January, April and October. Viewing is open to the public free of charge from the Elephant Seal Boardwalk.  It is an ideal location from which to view the seals from a safe distance, and docents are on site to answer questions. Restroom facilities are not available at this location.  The nearest restrooms are 4 miles south at William Randolph Hearst Memorial Beach.
To learn about the seals before you go, visit them on a webcam from Friends of the Elephant Seal—a non-profit organization dedicated to protecting the elephant seals by educating the public about this amazing mammal and other sea life.
Visit Friends of the Elephant Seal »
Directions from Hearst Castle
From San Simeon CA, head north from Hearst Castle onto California Highway 1, for about four and a half miles.
Located just off the west side of Highway 1, the parking lot is open to the public
and is just a short distance from the Boardwalk overlooking the beach area and the elephant seals.