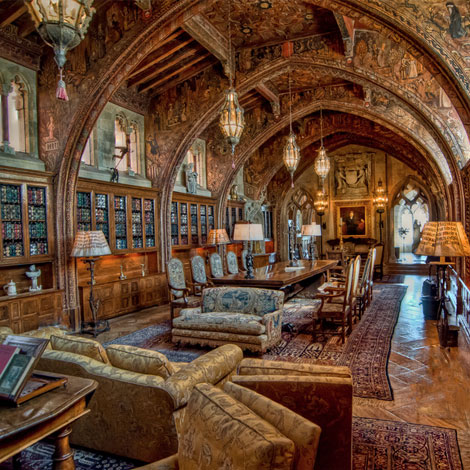 Climb the spiral stairs (322 steps) through the upper levels of Casa Grande to admire Mr. Hearst's own Gothic Suite, the enchanting Celestial Suite in the bell towers' level, the main library with 150 ancient Greek vases, the della Robbia Room, and a clever Duplex Suite.
TOUR RESERVATION, CHANGE AND CANCELLATION POLICY
Reservations can be made, changed or cancelled online at ReserveCalifornia.com or by calling 1-800-444-4445.
There is an $8.00 per ticket registration fee to reserve tickets.
Changes to tour date or time can be made in advance for a service fee of $8.00 per ticket.
Cancelled reservations will be assessed a $7.00 cancellation fee.
Physical Requirements
The Upstairs Suites Tour is 60 minutes long and consists of approximately 332 stairs, both up and down, and a 3/4-mile route to walk. For those who have difficulty walking or standing for lengths of time, we recommend Accessibly Designed Tours.