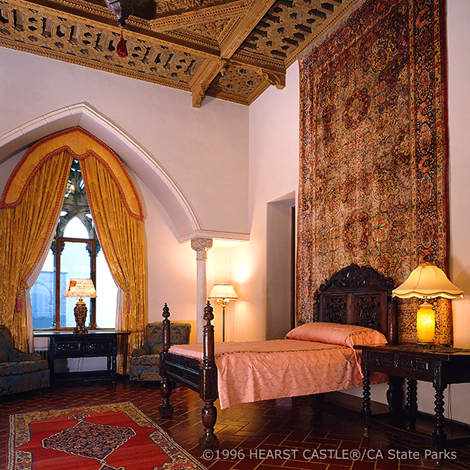 For anyone who is passionate about architecture and interior design, this 75-minute tour offers a comprehensive itinerary to explore how Hearst's astounding idea was realized. Collaborating for decades with Julia Morgan (1872-1957), the first woman to hold an architect's license in California, Hearst created an environment that is unique in the USA. Design and construction of the Enchanted Hill took more than three decades, and the estate was never really finished. This tour features Casa del Sol (the most elaborate of the guest cottages), the dressing-rooms behind the Roman Pool, and the more "modern" Art Deco esthetic of the North Wing of Casa Grande, which was built and furnished in the late 1930s – early 1940s.
TOUR RESERVATION, CHANGE AND CANCELLATION POLICY
Reservations can be made, changed or cancelled online at ReserveCalifornia.com or by calling 1-800-444-4445.
There is an $8.00 per ticket registration fee to reserve tickets.
Changes to tour date or time can be made in advance for a service fee of $8.00 per ticket.
Cancelled reservations will be assessed a $7.00 cancellation fee.
Physical Requirements
The Designing the Dream tour is 75 minutes long and includes approximately 320 steps, both up and down, and 1.2 mile walk. For those who have difficulty walking or standing for lengths of time, we recommend Accessibly Designed Tours.