OUR COMMITMENT TO SAFETY
The safety and well-being of our guests and employees is our top priority. California State Parks have introduced new measures designed to ensure a safe and healthy guest experience. These measures are based on guidance from health authorities, including the CDC, along with requirements of the State of California and San Luis Obispo County. Please follow all posted instructions while visiting Hearst Castle.
Notwithstanding our efforts, an inherent risk of exposure to COVID-19 exists in any public place where people are present. We cannot guarantee you will not be exposed during your visit. COVID-19 is an extremely contagious virus that can lead to severe illness and death. According to the CDC, older adults and guests of any age who have serious underlying medical conditions are especially vulnerable. Guests should evaluate their risk in determining whether to visit.
By visiting Hearst Castle, you voluntarily assume all risks related to exposure to COVID-19.
REOPENING PHASE
A properly worn facial covering is optional for all guests two years of age and older, while riding our bus transportation to and from the Visitor Center. Please bring and wear a protective cloth facial covering without holes or vents—entirely covering the mouth and nose—for each member of your group. Click here for the State of California Governor's order regarding face-covering requirements. Additional information can be found here for guests with a medical or other condition that prevents them from wearing a facial covering. This information is subject to change based on current California Department of Public Health and San Luis Obispo County Public Health guidelines.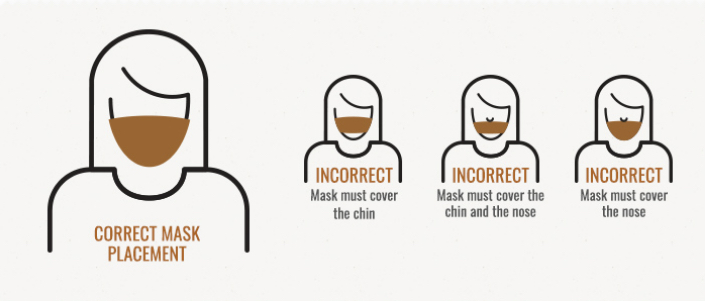 PRACTICE SOCIAL DISTANCING DURING YOUR VISIT
Maintain a minimum of a six-foot distance between you and others outside your household. We will have employees dispersed throughout Hearst Castle and the Visitor Center to remind guests of social distancing. Please follow their directions to help keep everyone safe.
FAQ
1. Are Face Coverings Required?
No, face coverings are not currently required, but strongly recommended. The Hearst Castle will alter guidance based on the California Department of Public Health and the San Luis Department of Public Health guidelines which can change at any time.
Additional information can be found HERE for guests with a medical or other condition that prevents them from wearing a facial covering.
2. What qualifies as a face covering?
A face covering, also known as a cloth mask, is material that covers the nose and mouth. It can be secured to the head with ties or straps or simply wrapped around the lower face. It can be made of a variety of materials, such as cotton, silk, or linen. A face covering may be factory-made or sewn by hand or can be improvised from household items such as scarfs, T-shirts, sweatshirts, or towels.
3. Is there a Health Screening upon arrival?
Not at this time. Subject to change.
The ticket holder consents to health screenings and other precautions related to covid-19 and other communicable disease that may be required as a condition for use of this ticket, including all precautions required by California Department of Public Health, San Luis Obispo Department of Public Health and all applicable laws and policies of federal, state, city, and local authorities while at Hearst San Simeon State Historical Monument or surrounding grounds or parking areas, such as, but not limited to, distancing requirements and the wearing of masks in designated areas.
Ticket holder agrees that neither holder, minor(s) nor any accompanying party will attend the event if within fourteen (14) days preceding the event, they have:
Tested positive or presumptively positive for covid-19 or other communicable disease or been identified as a potential carrier of covid-19 or other communicable disease; or
Experienced any symptoms commonly associated with covid-19 or other communicable disease; or
Been in direct contact with or the immediate vicinity of any person who is confirmed or suspected of being infected with covid-19 or other communicable disease.
A "communicable disease" as used herein is covid-19, any strains, variants, or mutations thereof, the coronavirus that causes covid-19, and/or any other communicable and/or infectious diseases, viruses, bacteria or illnesses or the causes thereof.
4. Are tour reservations required to see Hearst Castle?
Tour reservations are strongly encouraged. Please call 1-800-444-4445 or click HERE to make a reservation online.
5. What services will be available at the Visitor Center?
The Hearst Castle Theater will be showing the breathtaking film, "Hearst Castle – Building the Dream" every 45 minutes throughout the day. No capacity limit currently but we will alter guidance based on the California Department of Public Health and the San Luis Department of Public Health guidelines which can change at any time.
6. What are the tours available for reservations?
We are offering the following tours: Grand Rooms, Accessibly Designed Grand Rooms, Cottages and Kitchen, Upstairs Suites, Designing the Dream, and the semi-private Julia Morgan tour. For more information on tours click HERE.
7. Has anything changed with the way the tours are operating now?
To help ensure public safety, all tours will be escorted by our tour guides from the time you step off the bus at the hilltop, to when you reboard your bus for the return trip to the Visitor Center. Visitors may not explore the Castle indoors nor outdoors independently.
8. Can I just drive up in my own vehicle to Hearst Castle?
All tours at Hearst Castle require bus shuttle services for safety and security.
9. What should I expect upon arrival?
Please click HERE for items not allowed on the premises.
10. How much total time should I plan for my Hearst Castle visit?
All visitors should allow themselves ample time for arrival and the tour experience. Please plan to arrive 25 minutes prior to the scheduled tour time. This will allow for parking, amenities and tour ticket pick up.
11. What do I do if I am early or late for my scheduled tour time?
We recommend all visitors to arrive 25 minutes prior to their scheduled tour. If you arrive after your reserved tour time, we will do our best to find another time that day for your tour experience. If we cannot accommodate another tour time you can receive a refund, or we can reschedule you for the following day if space is available.
12. Are there any fees for reserving, changing or canceling tour tickets?
Reservations can be made, changed, or cancelled at ReserveCalifornia.com or by calling 1-800-444-4445. Changes to tour date or time: no additional charge if made in advance. A non-refundable registration fee per ticket and a $7.00 per cart fee will be charged for cancellations.
13. Do you have a lost and found?
Any item that has been lost or found should be reported to the Guest Relations Office at the Visitor Center. Acquired items will be kept for 30 days. Guests who have lost an item should call (805) 927-2010 with the following information: name, phone number (including area code), date item was lost and brief description of the item.
14. Are Drones allowed to be flown at Hearst Castle?
Drones, sometimes referred to as Unmanned Aircraft Systems (UAS), have become increasingly popular with recreational model aircraft operators and commercial operators alike. Drones are not permitted on or above Hearst Castle property; this includes around or above the Hearst Castle, or Visitor Center, or the surrounding parking lots.
15. How can I further support the educational programming and conservation projects at
Hearst Castle?
Join the Foundation at Hearst Castle or make a donation. Learn more at https://foundationathearstcastle.com/