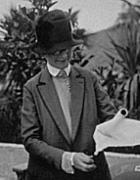 Julia Morgan was born in San Francisco on January 20, 1872 and grew up in nearby Oakland. She was the second child of Charles Bill and Eliza Parmelee Morgan.
Miss Morgan graduated with a degree in civil engineering from University of California at Berkeley. During her time at Berkeley, Morgan developed a keen interest in architecture, which is thought to have been fostered by her mother's cousin, Pierre Le Brun, who designed the Metropolitan Life Insurance Tower in New York City. At Berkeley one of her instructors, Bernard Maybeck, encouraged her to pursue her architectural studies in Paris at Ecole des Beaux-Arts.
Arriving in Paris in 1896, she was initially refused admission because the Ecole had never before admitted a woman. After a two-year wait, Julia Morgan gained entrance to the prestigious program and became the first woman to receive a certificate in architecture. While in Paris, Morgan also found a mentor in her professor, Bernard Chaussemiche, for whom she worked as a drafter.
Soon after her graduation from the Ecole, Julia Morgan returned to her native San Francisco and began working for architect John Galen Howard. At the time Howard was the supervising architect of the University of California's Master Plan, the commission of which he won by default from Phoebe Apperson Hearst. Morgan worked on the Master Plan drawing the elevations and designing the decorative details for the Mining Building erected in memory of George Hearst. During this time Morgan also designed the Hearst Greek Theater on the Berkeley campus.
Julia Morgan opened her own architectural firm in 1904, quickly establishing herself as an outstanding residential architect, and securing a number of commissions in the Piedmont, Claremont and Berkeley neighborhoods. One of Morgan's first residential commissions was to remodel and complete Phoebe Hearst's Hacienda del Pozo de Verona in Pleasanton, California. Morgan's style was characterized by her use of the California vernacular with distinctive elements that were characteristic of the Arts and Crafts movement, including exposed support beams, horizontal lines that blended with the landscape and extensive use of shingles, California Redwood and earth tones. One of her first independent projects was the bell tower on the campus of Mills College in Oakland, which withstood the great 1906 San Francisco earthquake.
Other notable projects included the rebuilding of the Fairmont Hotel after the 1906 earthquake, the Asilomar Conference Center in Pacific Grove, California and a series of YMCA buildings in California, Hawaii and Utah. Throughout her career she designed nearly 800 projects in California and Hawaii.
In 1919 William Randolph Hearst hired Julia Morgan to design a main building and guest houses for his ranch in San Simeon, California. Mr. Hearst instructed her to build "something that would be more comfortable" than the platform tents which he previously used at the ranch. Hearst's mother, Phoebe, had recently died in the influenza epidemic, and Hearst had finally inherited this land as well as other Hearst property and an estimated $11 million. Morgan's classical training in Paris, her background in engineering, and her use of reinforced concrete suited her well for the project.
Over the course of the next 28 years, Morgan supervised nearly every aspect of construction at Hearst Castle including the purchase of everything from Spanish antiquities to Icelandic moss to reindeer for the Castle's zoo. She personally designed most of the structures, grounds, pools, animal shelters and workers' camp down to the minutest detail. Additionally, Morgan worked closely with Hearst to integrate his vast art collection into the structures and grounds at San Simeon. She also worked on projects for Hearst's other properties including Jolon, Wyntoon, Babicora, the "Hopi" residence at the Grand Canyon, the Phoebe Apperson Hearst Memorial Gymnasium at Berkeley, the Los Angeles Examiner Building, several of his Beverly Hills residences and Marion Davies' beach house in Santa Monica.
In the late 1930s Mr. Hearst's financial woes slowed the pace of her work for him. However, Miss Morgan had always maintained a sizable client list, carrying out other commissions in conjunction with the Hearst endeavors. In 1947, upon Hearst's leaving the Castle for the last time, Julia Morgan's work at San Simeon was finished although the Castle was never completed in its entirety.
Julia Morgan retired in the early 1950s and led a reclusive life until her death in 1957.